What happens to us, individually, when we connect with others, socially? My research looks at how people rebuild their lives after being convicted of criminal offences. I have especially focused on the role of faith, faith communities, locating and building trust and interactions between identity, agency, social structures and criminal justice practices. I have studied people's experiences of this process in high security prisons when they have many years to serve and sometimes when release is unlikely or impossible, and also as people are released from prison and during the years immediately after release. Building on this, my current research, funded by the British Academy, involves the implementation and evaluation of 'Learning Together', an initiative whereby university students and prisoners study together within a prison. The course design is informed by intergroup contact theory, desistance theory and educational theories of how learners reach their full potential. It aims to look at the consequences of curating spaces of connection and learning within secure environments and beyond. For more information on Learning Together, to get involved or to start a course from your university please contact me on justis@crim.cam.ac.uk
I have previously taught Criminal Law and Sentencing and the Penal System. I currently teach on the M.St in Applied Criminology, Penology and Management. While at Cambridge I have helped to set up and run a death penalty internship for Cambridge students to work with lawyers in the USA and the Cambridge University Investigating Innocence Project. I am interested in desistance, in social responses to crime and people convicted of criminal offences, in the work of volunteers and the voluntary sector in criminal justice, in how trust develops, how it manifests and how it shapes and is shaped by social relations, as well as intersections between theology, sociology and criminology. I also have an enduring interest in the death penalty, especially in the USA, and occasionally lecture on the topic.
Jogging with Jody: After prison, can you build a life on your own?
This new short documentary tells the story of the first year of one man's life after prison. Josh has served numerous prison sentences, the last of which was an 8 year sentence extended for public protection. He is registered as a priority prolific offender. The police advised his probation officer that she would probably recall him within 3 hours of release from prison. This is his story of the ups and downs of life after prison, how he started to work with a volunteer mentor, Jody, and how the trust they built helped him to be honest about his present and hopeful for his future.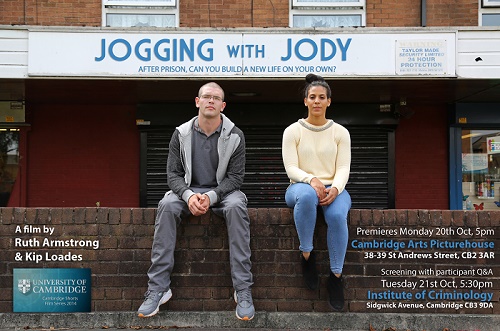 The short film premieres at the Cambridge Arts Picture House at 5pm on Monday 20th October (through the Festival of Ideas) as one of five 'Cambridge Shorts' productions, communicating early academics' research findings in innovative ways through film.
On Tuesday 21st October at 5.30pm it will be shown at the Institute of Criminology, Cambridge. This showing will include a companion film: reflections on film one from leading academics in desistance and from the directors of Community Led Initiatives (the volunteer mentor organisation). Film two explains the aspects of Josh's story that are common themes in desistance research. It shows how Community Led Initiatives train volunteers in mentoring that works alongside probation to support desistance and the important work of the local council in providing employment opportunities. After the showing there will be a Q&A with a panel including Josh, Jody, CLI Directors Peter Atherton and Matthew Kidd, leading desistance scholar Professor Sir Anthony Bottoms and filmmaker Kip Loads. There will be wine and nibbles to follow and the chance for more informal chats.